Update 2021: Online shop is still open! We resumed our classes on Mon 12th April for single bubble/households at first, then for mixed households from 17th May onwards. Do get in touch if you'd like to come for a class - we have full precautions in place without it impacting on the enjoyment of the session.
I fuse glass in a kiln and enjoy using my science background to experiment with chemicals to create distinctive jewellery designs in fused glass and enamelled copper. Many techniques that I use are of my own invention to create unusual pieces.
I sell my handmade glass jewellery online, via shops and galleries and at art & craft markets across the Midlands. I am very happy to undertake commissions, including bespoke jewellery made with memorial ashes.
I also run glass fusing and enamelling classes in Worcestershire alongside my husband, Chris Greening, who teaches pottery.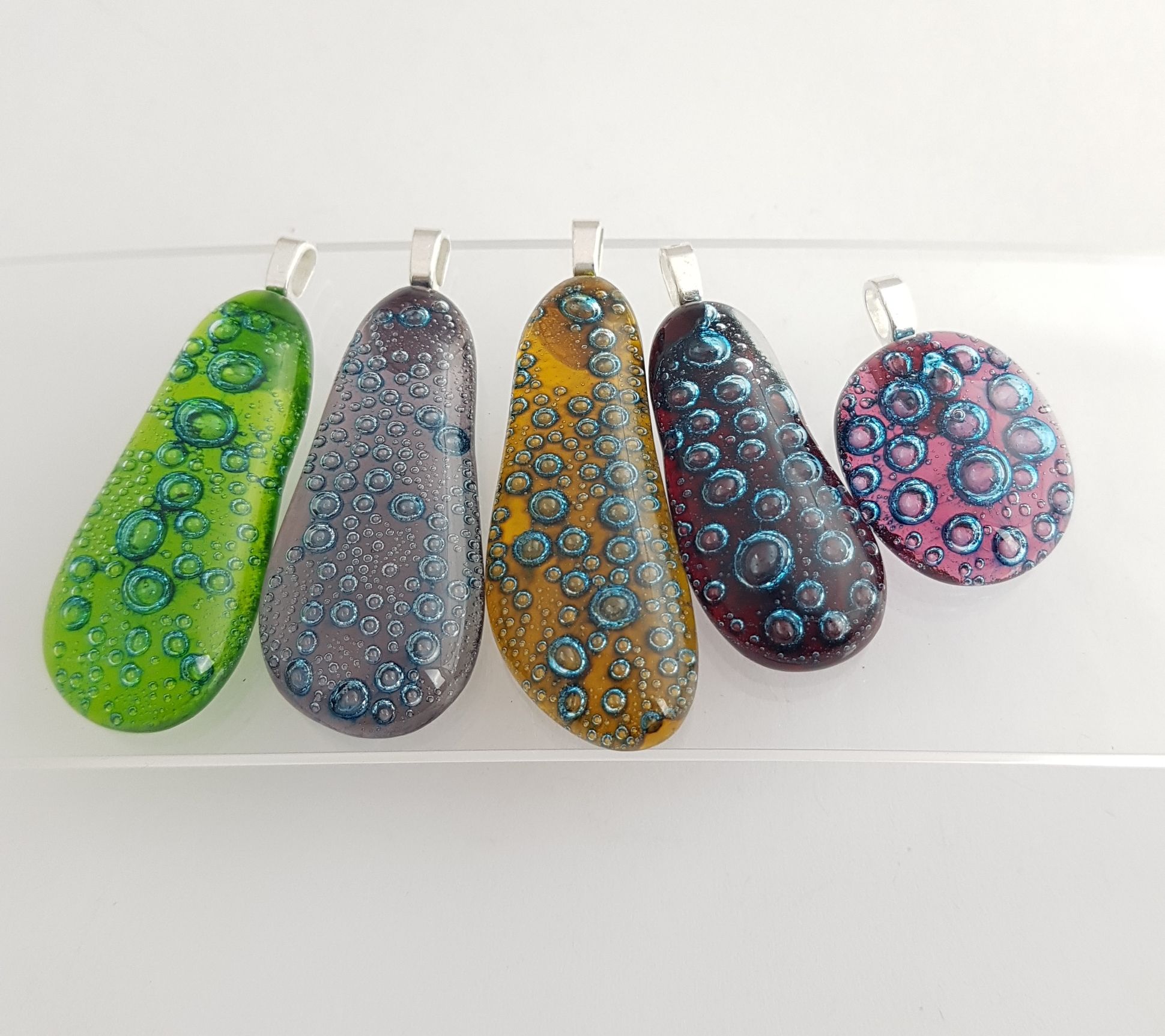 Jan 2021 Update - what's happening at Greening HQ in Lockdown 3
My online shop is always open - I have a 20% sale on many pieces and you can grab an extra discount code by signing up to my email list. Have you spotted the SALE section in the shop? These are sometimes brand new experimental pieces - "limited editions" or some older stock items - grab a bargain! Lots of people have been making the most of the gift message option too - I can include a message to the recipient for you which is a lovely way to send a cheering gift to someone!
We've both been building up stock levels ready for when we start outdoor markets - we have a long list of confirmed market dates in the calendar already which gives us a positive focus to aim for.
Classes are obviously paused during lockdown but we are eagerly awaiting resuming these as soon as we can. You are welcome to make bookings for future dates and if the virus scuppers plans then we can just postpone the date. Gift vouchers for classes are also available.
NEW Range of Jewellery
My last glass fusing class was on March 22nd 2020, the day before lockdown for the UK and a sudden halt to 90% of my business! I have kept my online shop open for items that I can post through a letter box which, fortunately, is most of them! Unprecedented times bring with them different stresses for different people, quite apart from the obvious over-arching health worries for all.
Mentally, I found myself craving a different creative outlet. I have spent a lot of time building on my previous experiences with enamelling on copper and I have recently posted a new range of jewellery which has already been proving popular! Each item is completely unique and I love experimenting with the textures and patterns. Watch this space for more...
KEW GARDENS - My bubbles jewellery can now be found in the gift shop at Royal Botanic Gardens, Kew which is hugely exciting for me!
6 other retailers have also ordered from me as a result of visiting my stand at the NEC Spring Fair and Top Drawer at Olympia in Sept 2019. My jewellery can now be found in Estonia, Jersey, Lancashire, Pembrokeshire, London, Norfolk and Bristol as well as locally in Worcester.
I will have a stand at British Craft Trade Fair in Harrogate in April 2020 and hope to gain more retail outlets. Please ask if you would like to see my wholesale linesheet.
THEO PAPHITIS - I won a small business award from Theo Paphitis in Sept 2017, after just 3 months in business! He selects small businesses that are doing something unusual. I met him to receive my certificate in person in 2018 and he now owns a pair of my cufflinks (the turquoise with silver stripe ones)!
He is very supportive of small businesses - I have assistance from his advisers and meet him once a year.