Making memorial ashes into keepsake jewellery
Many people prefer to have the cremation ashes mixed with other inclusions and there are various options to select from below. You might prefer to have the ashes more prominently visible and this can be done on any colour of glass background with clear glass on top and made into pendants, rings, earrings, charms, cufflinks. Please take a look in my shop to see the range of jewellery I create and we can discuss options.
I only use a tiny amount of ash. The fine ash would be placed inside 2 layers of glass and fully fused in my kiln at approximately 800C which creates a shiny, smooth surface with the ashes permanently sealed inside. Tiny bubbles can appear inside the glass when ash is used - this can add to the uniqueness of your individual pieces. The finished glass is very robust - it is a 6mm deep solid piece of glass.
Please allow up to approximately 3 weeks (might be sooner) for finishing the jewellery and I send the finished jewellery by Royal Mail signed for post or you can collect if local. This is a bespoke service and takes extra care and time - prices can vary from £20 (for a simple glass charm) to approximately £80 depending on the size and complexity of the piece.
Plain coloured glass or mica shimmer
Ashes can be sprinkled finely either as just ash (left) or with some shimmery mica powder added (right). I have mica powder in a gold, silver, copper or bronze shades and the piece would have clear glass on top.
This can be done with any colour of background glass you'd like and different shapes and sizes and made into a pendant, ring, earrings, cufflinks, charms. Example price: from £55 for a pendant with chain similar to these in the photo.
Dichroic glass is sparkly glass that changes colour at different angles and is very popular for jewellery.
This glass is available as pendants, rings, earrings, stud earrings and charms and in many different colours, as seen in these examples. Charms from £25, studs from £45, earrings from £60 and pendants from £60.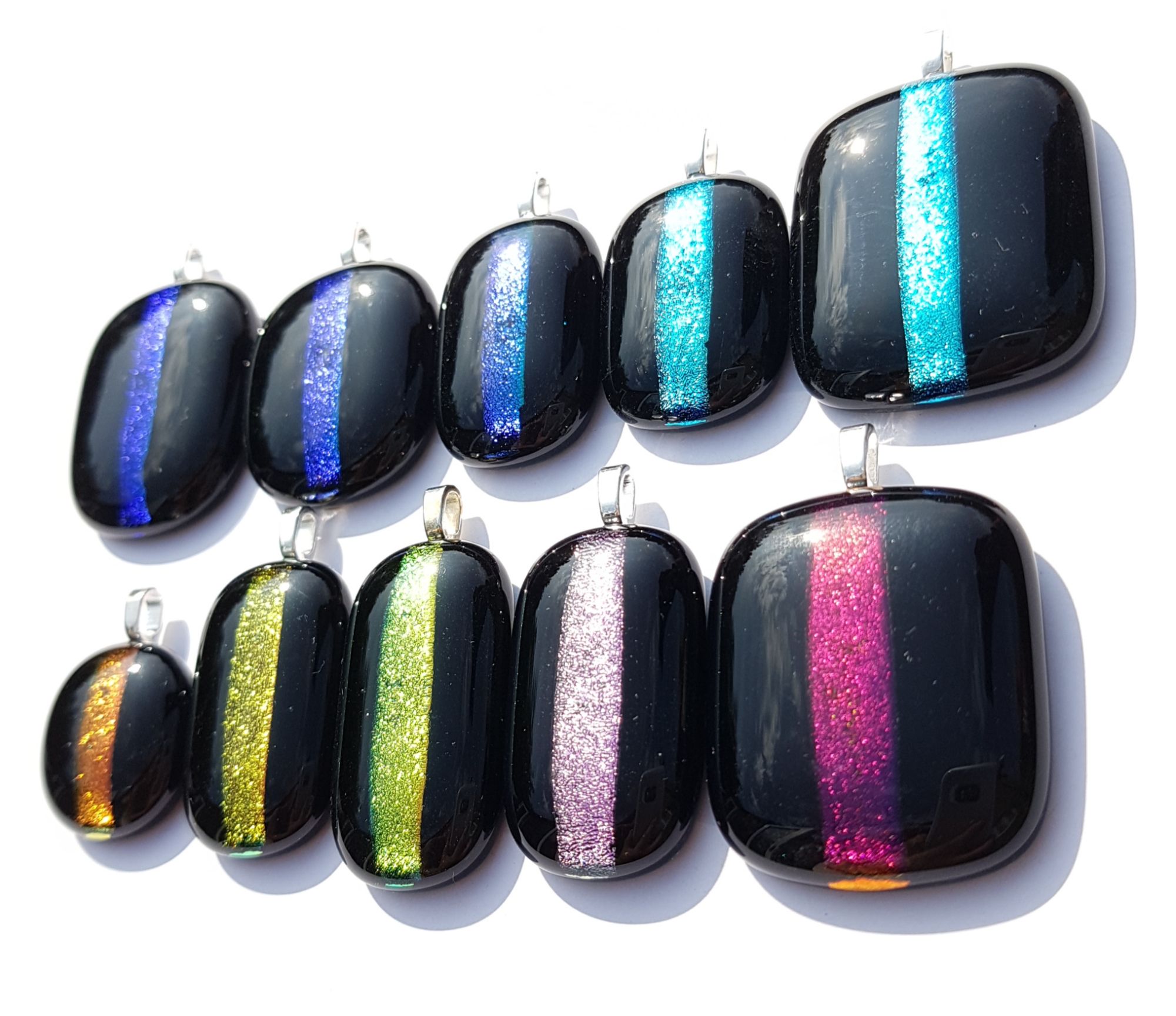 A stripe of dichroic glass
Ashes can be fired inside this style of pendant with black background and a stripe of sparkly dichroic glass in the centre. I would recommend only a fine dusting of ashes for these so it doesn't deform the straight lines of the sparkly layer.
These can be made as pendants only and price would depend on the size, from £70
Ashes can be mixed with the chemical mixture that I use to create my most popular range of bubbles glass jewellery. The ash would only be visible when looking closely - the lovely effects of the bubbles would be the prominent visible feature.
This can be done in any colour glass and different shapes and as pendants, rings, earrings, charms, cufflinks etc. Example price: from £65 for a pendant with chain similar to these in the photo.
Ashes can be mixed with the any colour of glass granules which are then fused inside 2 layers of glass. The ash would be visible amongst the colourful granules - I can make the ashes more or less visible to suit your preferences.
This can be done with any colour of background glass you'd like and any colour of granules and as pendants, rings or cufflinks. Example price: from £60 for a pendant with chain similar to these in the photo.
Optional setting of rings by local silver jeweller
I know a local silversmith, Justine Morris Designs, who I collaborate with on some pieces. I feel the ring cabochons with ashes inside are better set into a silver bezel and Justine has a few different designs that can be created for you after I have made the fused glass cabochons.
Prices from £70.
Happy customers:
"Dear Sarah and Justine, Thank you so much for my bespoke ring - I absolutely adore it! You are both such talented craftswomen and it's a joy to support local independent artists. You both listened to my vision for the memorial ashes ring and did not disappoint in delivering. I wholeheartedly recommend both of you and will definitely be returning again for more purchases."

"Dear Sarah, The pendant you made for me is really beautiful, it's the right colour and shape. It's just perfect. Thank you."

"Everyone @Church has been admiring my specially commissioned brooch ...
I have some very very interested ladies and gentlemen who would love to acquire the same/or indeed something similar. Thanks an absolute million,trillion."
Glass fusing class to make your own keepsake jewellery
I run many glass fusing classes in Worcester and you might like to take the opportunity to create your own jewellery by using the memorial ashes.
I have run a few of these private classes, most recently where 2 sisters came to create some keepsake jewellery from their mother's ashes and they found it a cathartic therapy which helped them with their grieving. They made some lovely personal pieces of jewellery and also some hanging decorations.
Details about booking classes can be found here.
Happy customer:

We booked a glass making class to create some memorial pieces in memory of my father-in-law.
Sarah was so helpful and professional from our first contact, and right through the whole process. We were unsure what to expect but Sarah made us welcome and put us at ease straight away. Her calm, supportive and guiding manner meant we were not overwhelmed and we actually had a really lovely family time, and believe me that's very rare for us, certainly since the kids became adults!
We chatted on the way home about how each of us had enjoyed and what we had gained from the class and the experience, obviously Dad/Father-in-law/Gramps came into our conversation, and how much he would have loved Sarah's skill and knowledge.
Thank you Sarah.
Please do get in touch to discuss what you would like to have made and any questions you might have about the process.