CLASSES RESUMED 4th July 2020. From Mon 14th Sept I can teach more than 1 household at a time. You are welcome to book a date or buy gift vouchers! I am being flexible on expiry dates on vouchers - please just get in touch and I can extend the date for you, depending on the current circumstances. But please note that my availability gets very limited in Nov/Dec - if you had a voucher for Christmas 2019, please get in touch soon!
Precautions: I will be cleaning surfaces and tools (I have plenty of spare tools so no need to share). I will be wearing a clear full face visor for teaching and participants should bring their own face mask (or they can borrow a (cleaned) visor from me if that is more comfortable). We will inevitably come within 2 metres of each other but I hope that the risks will be minimised by these precautions.
Various formats available:
Bespoke classes for your own group (1-6 people)
Small group classes on set dates - join other people (temporarily not available)
Multiple classes for intermediate level
In your workplace or other venue (6-10 people in each group) (temporarily not available)
Combined with pottery (1 day or a half day course)
Buy a gift voucher for someone else
I run glass fusing classes for up to 6 people in Worcester when it suits you! Bring a friend (or a few!) - it is great to have fellow learners to bounce ideas off. A one-off taster lesson is suitable for people who want to learn the basic techniques of a new craft which might lead to a new hobby but we can easily adapt the class if you are not a beginner and I have often held mixed ability classes. I have taught GCSE Art students who have submitted pieces for their portfolio (but you REALLY don't need to be artistic to do the class!). Craft workshops are a great gift idea for someone who enjoys trying new things (you can buy a voucher and the recipient then arranges a date to suit them).
Here is the detail:
​1-1 or 1-2 (1-3 etc) tuition (10+ years old (U16 accompanied by paying adult)) can be arranged at a time to suit you throughout the year (most weekday daytime or evenings and some weekend slots available).
A 2 hour class costs £45 for an individual or £80 for 2 people booking together or £115 for 3, £150 for 4, £190 for 5 or £230 for 6 people booking together and will include the glass materials and inclusions, jewellery bails and the firing of your pieces. You can choose to make a piece of jewellery, a sun-catcher or coaster, Christmas decorations, cocktail stirrers etc. - approximately 3-4 items can be made in the 2-hour class. Your pieces will be ready to collect in 1-2 weeks. (Postage can be arranged at cost.)
The workshop is equipped with a large range of coloured glass in different sizes and formats, various metal inclusions, kiln fibre and jewellery fixings, tools and an electric kiln.
It is helpful to bring an idea of what you might like to have a go at making - Pinterest is really useful for ideas. If you have a particular project you want to try out (e.g. sun-catcher or coaster) then we can discuss how you can achieve that in the time available.
I have some set dates for 2-hour classes where you can come on your own but join other like-minded people in a small group (up to 4). Early bird rate of £40pp will be offered if booking at least 4 weeks before the date. Dates in 2020: postponed until mixed classes are allowed.
Multiple classes: If you've tried my taster class for beginners and want to do more, you can book a series of classes at a reduced rate.
Pottery: My husband, Chris, offers pottery courses for up to 4 people with a wheel each and we offer a combined pottery and glass course (see below for more details on the combined course).
BOOK: Please use the Contact Form to get in touch or email [email protected]. Order a gift voucher now for a friend or book for you both and then you can arrange a date and time to suit you both later. A lesson voucher makes a great unusual gift for a fun creative activity to do together. If you contact me via email then you can pay by BACS bank transfer and I will send a lesson voucher by email to the recipient of your choice who can then arrange with me a time that would suit.
*If you need to cancel a glass class booking I can give you full refund for cancellation/postponement up to 14 days before the event but if a cancellation/postponement is less than 14 days notice before the event, then I can only refund part of the payment unless a replacement can be found. No refunds for cancellation/postponement within 48 hours of the start of the class. (If you have to self-isolate due to Covid 19 - we can postpone the class to a later date but please give me as much notice as possible)
Classes in the workplace and other venues: I can also come to your workplace or home to run the class for a larger group (6-10 people per group) near Worcester - a great way to reward staff and have some team-building creativity or for a family get-together!
Get in touch for more details for a bespoke workshop arranged to suit you. I can provide reviews from organisations who have booked me previously.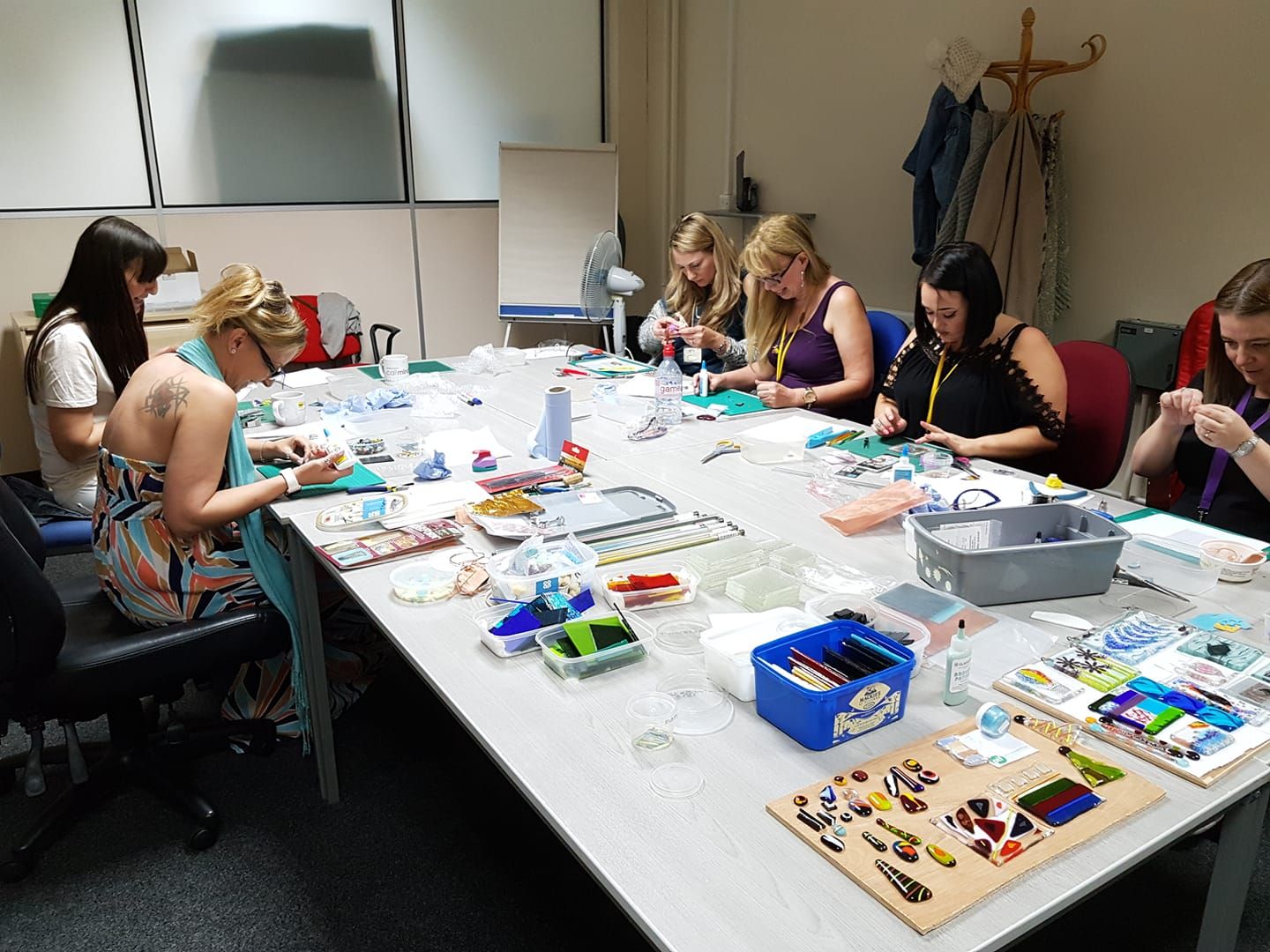 My husband, Chris, runs classes in pottery for up to 4 people with a wheel each and we offer a combined 1-day or half-day course in our workshop/studio in Worcester.
1-day course:
a bespoke course for a group of 2 to 8 people (max. 4 in each class) on a date to be arranged between us
to join one of our set dates (max. 8 people, 4 in each class). Dates for 2020: tbc.
The day (10am-4pm) will include a pottery class of approx 2.5 hours and a glass class of approx 2.5 hours with a ploughman's type buffet lunch and breaks for tea/coffee.
The cost for the whole day course is £130 per person, £240 for 2, £330 for 3 and £100 each for 4-8 people eg: £600 for 6 people). Each day will need a minimum of 2 people in order to run. You can buy a voucher or enquire.
A half-day course is a popular variation: 1.5 hours of pottery and 1.5 hours of glass fusing. A maximum of 4 people in each class. Half-day costs are: £80 for 1 person, £150 for 2, £210 for 3 and £260 for 4 people.
The courses include all materials and the firing of your pieces for collection in approximately 2-3 weeks (postage can be arrange at a cost).
Please make an enquiry if you are interested in knowing more.
You can see more about Chris's pottery classes on his website: chrisgreeningpottery.co.uk
*If you need to cancel a combined 1-day class booking we can give you a refund for cancellation/postponement up to 30 days before the event but if a cancellation/postponement is less than 30 days notice before the event, then there will be no refund unless a replacement can be found for that course. No refunds for cancellation/postponement within 48 hours of the start of the class.
You can find many more reviews on the Craft Courses website.
Here are reviews from recent learners:
"I have had a brilliant afternoon, thank you so much and I'm looking forward to seeing my four pieces fired. Your safety precautions re., covid 19 are first class ..sanitizer, face masks, etc., so no problems at all. Only problem was I couldn't give you a hug for a lovely afternoon 😏"
"Sarah's course was like the alchemy of her glasswork; simple, brilliant and fun! Her attention to detail, kindness and generosity with her time and knowledge made the course such a wonderful experience. With Sarah's guidance it seems I'm quite creative. Who knew!! Cannot wait to see how everything else turns out and look forward to the next course in August!"
"There were plenty of different resources to use, not just glass, so we had a good range of colours and items to be able to blend into our pieces. The atmosphere was relaxed and encouraging. Sarah was good at guiding whilst encouraging us to do what we wanted - not what she thought we should do. This must be a fine balance and I think she did this well. The two hours flew by. I would thoroughly recommend this course to those who are novices to those who have dabbled a little too."
"The instructor was very knowledgeable, amenable and helpful, her explanations were clear. A very creative course: I had a great feeling of achievement by making a coaster, a pendant and for extra fun - a cocktail twirler!! Lovely items on display to inspire and give you ideas to further boost your creativity.
I would recommend this course."
"Really enjoyed my starter lesson, which was a gift from the husband. Sarah was very friendly and welcoming, and the studio was lovely to work in. Lots of different materials to use, and Sarah described everything really well. I'd more than happily go back again and have another go, to try out different ideas. Looking forward to seeing my finished pieces!"
"Sarah is a great teacher, allowing free reign of her amazing workshop to use a wide range of materials to make a number of glass items. The two hours went really quickly and I came away with creations that I can put on show. Brilliant value and highly recommended"
"I had such a brilliant time, worth every penny, even though my efforts were not particularly artistic. I'd definitely like another go and would recommend to anyone."
"What a great way to spend the afternoon. Thanks Sarah for teaching us it was great fun... Can't wait to see the finished article.."
You can see more reviews on my Craft Courses webpage.