Chris (my potter husband) and I offer a wide range of classes and combinations of these crafts too. For over 6 years we have run classes in our workshops in our garden in North Worcester and they range from 1.5 hours up to whole days. They are run as private classes for 1-8 people so you can get 1-1 tuition if you prefer, or you can come as a small group - great for couples, families or friends groups.
Lots more details on these separate pages:
Please email [email protected]. If you contact me via email then you can arrange a date for your class, ask questions and pay by BACS bank transfer for your booking or voucher. If buying a voucher, I will send the voucher by email to you or the recipient of your choice who can then arrange with me a time that would suit (the recipient can also choose to top up the voucher to bring a friend or 2 if they wish). Or you can order a gift voucher directly from the shop (credit card via Stripe or Paypal (Stripe preferred as lower fees!)) and then arrange a date and time to suit you later. A lesson voucher makes a great, unusual gift for a fun creative activity to do together and I can add a personalised message for you.
Please note the age limit (9+ for fusing and 13+ for enamelling and stained glass) and that children under 16 should be accompanied by a paying adult please.
Cancellation policy:
*Obviously stuff happens in life and you might wish to cancel or postpone your booking. Please understand that we probably won't be able to re-fill that booking slot at short notice so we lose out on that earning opportunity. If you do need to cancel a booking you can postpone the date or I can give you full refund for cancellation up to 14 days before the event (30 days for whole day courses). If you wish to cancel a booking less than 14 days notice before the event (30 days for whole day courses), then I can only offer postponement of the class (no refunds) with an admin fee charged for re-booking. No refunds or postponement for cancellation within 48 hours of the start of the class (in exceptional circumstances I can postpone with a 10% admin fee charged for re-booking the date).
COVID UPDATE: If you test positive for Covid we can postpone the class to a later date but please give me as much notice as possible. I would prefer to know that you are positive and rearrange the class, rather than have the risk of transmission which would have personal and business impact.
Gift voucher expiry date can be extended by 3 months if you contact me before it expires but vouchers cannot be refunded.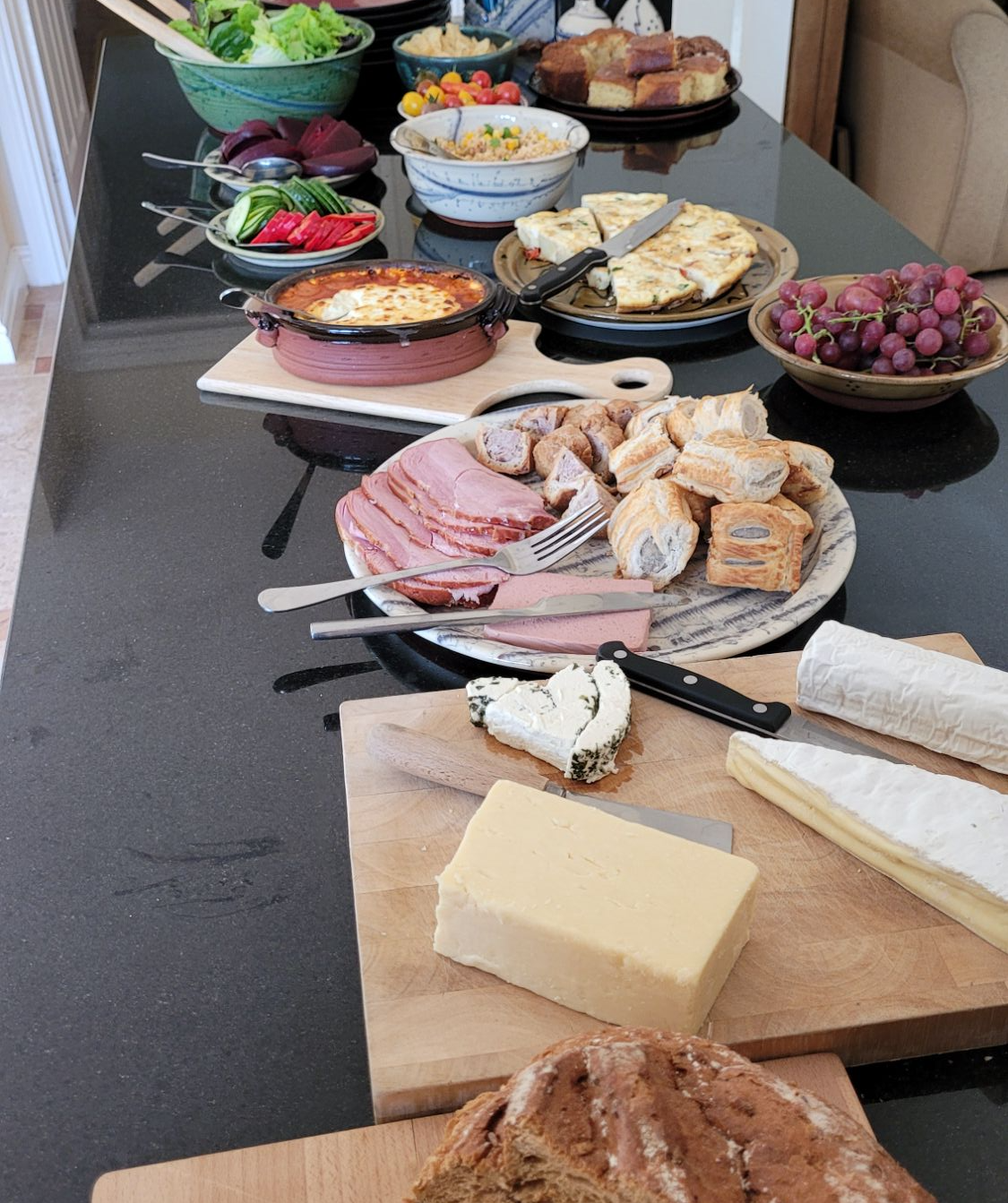 Our legendary lunches with whole-day courses!
Word of our lunches that we provide for our whole-day courses has spread far and wide! We have had people approach us to do a course who specifically want to do a whole day courseinstead of a half-day because of the lunch they've heard about!
I try to provide produce from our allotment when in season and make things like home-made salads, Spanish tortilla and cake and we buy lovely breads and cheeses, pate, ham etc. My own chilli jam and elderflower champagne (non-alcoholic!) are usually available too.
We are very informal - you all help yourselves in the kitchen and can go back round again whenever you like! We try to cater for most dietary requirements if you let us know in advance too.